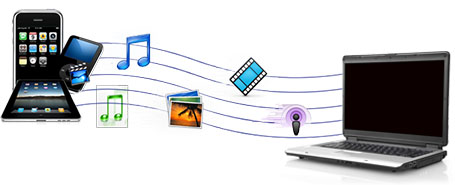 iPhone to PC Transfer Software (iTransfer) - Why Do you Need it?
Welcome to IPhonetoPC! Your presence on this page signifies that you are looking for a solution to the age old problem of transferring files from iPhone to computer or from your computer to an iPhone. Well, you've just landed on the right page. But before going any further and learning more about the tool named iPhone to Computer Transfer, let's just discuss why one would actually need an iPhone to PC transfer utility when iTunes software is already there?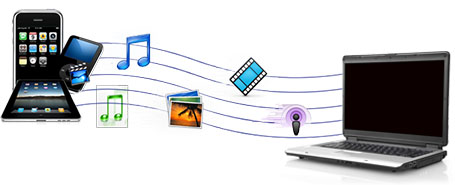 iTunes is certainly one of the most amazing and must have applications for iPhone, iPad and iPod users. But there are some limitations with iTunes, it only allows one way synchronization (due to strict copyright acts) - from the Computer to the iPhone. For instance, if the music library on your PC is empty and you sync your iPhone using iTunes, it will erase all of your existing music tracks from your phone. It is nearly impossible to transfer music, videos, contacts and other data back onto your hard drive simply by using iTunes software alone.
There are plenty of other reasons to have an iPhone to PC transferring software. For example, what would you do if you just formatted your hard drive and all your data is on your iPhone, or you want to back-up your files on PC, or get a song off a mate's iPhone? If you are in these circumstances, then you need to grab a third-party iPhone to PC transferring utility.
Transfer iPhone Files to PC with Advanced iPhone to PC Transfer Tool
If you are tired of iTunes's one way synchronization features, then we have an iPhone to PC transfer utility named iPhone to Computer transfer. With this tool you can transfer music, movies, eBooks, messages, contacts, voice memo's, photos and other files from your iPhone to a computer/iTunes and from your computer to iPhone and iTunes with ease. It is also an ideal solution to back up all of your iPhone messages, contacts and other data as a database file to your computer for safety reasons.
iPhone to PC Transfer supports the latest iOS 10 (also compatible with older iOS versions) and iTunes 12. It can be also used to sync your iPhone directly to iTunes. This tool supports all the older iPhones such as 3GS, iPhone 4, iPhone 4s, iPhone 5, iPhone 5c/5s, iPhone 6/6 Plus as well as new iPhones like iPhone 6s/6s Plus, iPhone SE and of course the new iPhone 7 & iPhone 7 Plus. All types of iPod/iPad are supported too, including iPad Mini, iPad Air and the iPod Touch. It is the best iPhone transferring software to transfer iPhone files to PC/iTunes and from computer to iPhone available on the market, which comes with the most economical price tag available. Besides the file transfer and data synchronization, with this advanced tool, you can also treat your phone as a portable hard disk. The following are the main functions that come with this iPhone to Computer/PC Transfer utility: